Spectra Ventures
Crafting a Cohesive Branding Kit for Breakoutwards Retreats
Crafting a Cohesive Branding Kit for Breakoutwards Retreats
Crafting a Cohesive Branding Kit for Breakoutwards Retreats
Introduction
Breakoutwards is an exciting new startup that offers personalized retreat experiences for digital nomads around the world. Their goal is to provide fulfilling trips that enable location-independent professionals to explore, recharge, and connect.
We were brought on board in the early stages of their company launch to create an engaging brand identity and set of visual assets to support their marketing efforts. This involved determining the look and feel that would resonate with their target demographic and reflect the unique values of the brand.
Developing the Brand Identity
To capture the energy and ethos of Breakoutwards, we went through an in-depth logo design process considering imagery, typography, color, and more. We landed on a playful logo combining an icon representing travel and discovery with a san-serif font conveying the versatile spirit of digital nomadism.
We also hand-picked a vibrant color palette evoking the excitement of exploring exotic destinations. Warm shades of orange and pink complemented by cool tones of green and blue created a bold, captivating combination.
For typography, we selected clean, minimalist fonts that would clearly communicate while allowing the bright colors and imagery to draw focus. The chosen styles aligned well with the brand's modern, tech-savvy audience.
Additionally, we crafted a set of custom icons for use across marketing materials. These illustrated key ideas like personally tailored itineraries, cultural immersion, and community in a consistent visual language. They add graphical flair that reinforces what makes Breakoutwards unique.
Bringing the Brand to Life
To ensure consistent use of the new brand identity across contexts, we provided Breakoutwards with a set of comprehensive branding guidelines. This detailed manual advises on proper logo usage, color combinations, typography selection, graphic elements, and more.
We also produced a suite of social media graphics optimized for platforms like Instagram and Facebook. These showcase the brand personality through playful, travel-inspired imagery and spotlight different offerings from exclusive retreats to community membership.
All visual assets from presentation decks to website banners were crafted to embody the vibrant style established in the branding process. This cohesion gives Breakoutwards a polished, professional edge.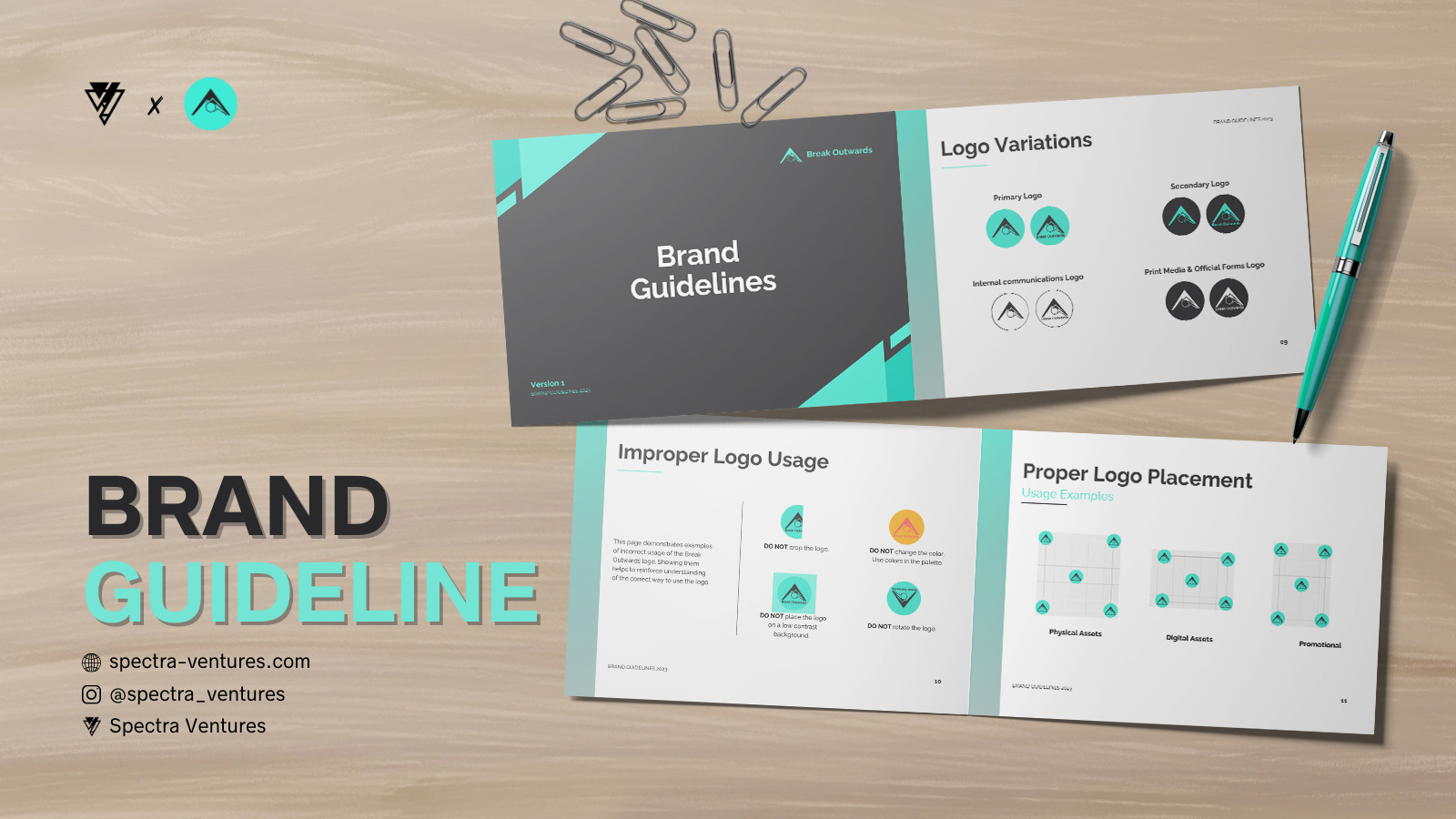 Results and Continued Partnership
The collaborative branding process resulted in a unified vision that resonates with Breakoutwards' core demographic while distinguishing the startup in the digital nomad space.
Early marketing efforts utilizing the new assets have shown promise in generating excitement and interest in the target audience. As Breakoutwards continues expanding retreat offerings and community engagement, they are well positioned for success with a strong brand foundation.
We are thrilled to continue this partnership by producing engaging new content that brings the brand to life across digital and print. It has been incredibly rewarding to see the brand vision come together from start to finish.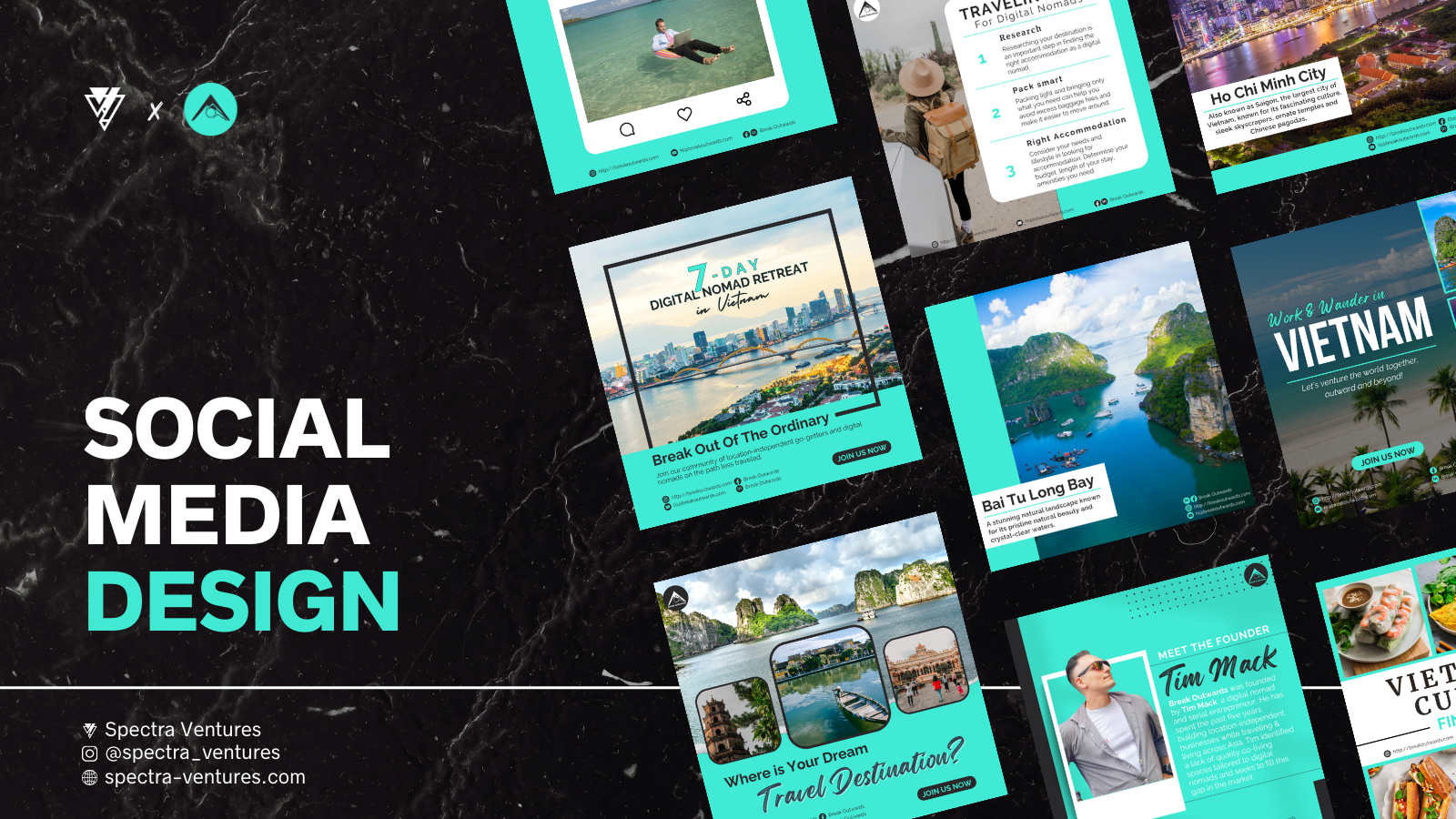 Key Takeaways
Establishing cohesive branding was crucial in effectively communicating the Breakoutwards mission and look.
Professionally designed visual assets optimized for key marketing contexts give the startup an elevated, polished edge.
Providing clear, comprehensive creative guidelines ensures brand consistency as the company scales.
Ongoing collaboration will allow the brand identity to evolve while maintaining core visual elements.
This case study highlights the value of intentional branding and aligned aesthetics, particularly for experience-focused startups wanting to make an impression.
Contact us today for your Branding Kit Needs
A comprehensive branding kit is crucial for companies to clearly communicate their vision, personality, and values to customers in a consistent way. Well-designed branding assets like logos, color palettes, typography, and graphic elements allow businesses to develop recognition and trust in their target market. Branding kits create cohesion across marketing materials from business cards to websites to product packaging. They ensure customers receive a unified experience at every touchpoint. For startups and small businesses especially, investing in polished branding can lend an air of credibility and professionalism. Overall, thoughtful branding kits give companies an opportunity to make a strong visual impression, share their unique story, and form lasting connections with clientele.
Did you like this article?  Share it with your friends. 🙂
Let us Handle your Social Media Management
Facebook and Instagram post management professionals at your service, let us design and schedule content to be shared on your social accounts.